VERDI - Multi-channel Analog Readout for Radiation Detectors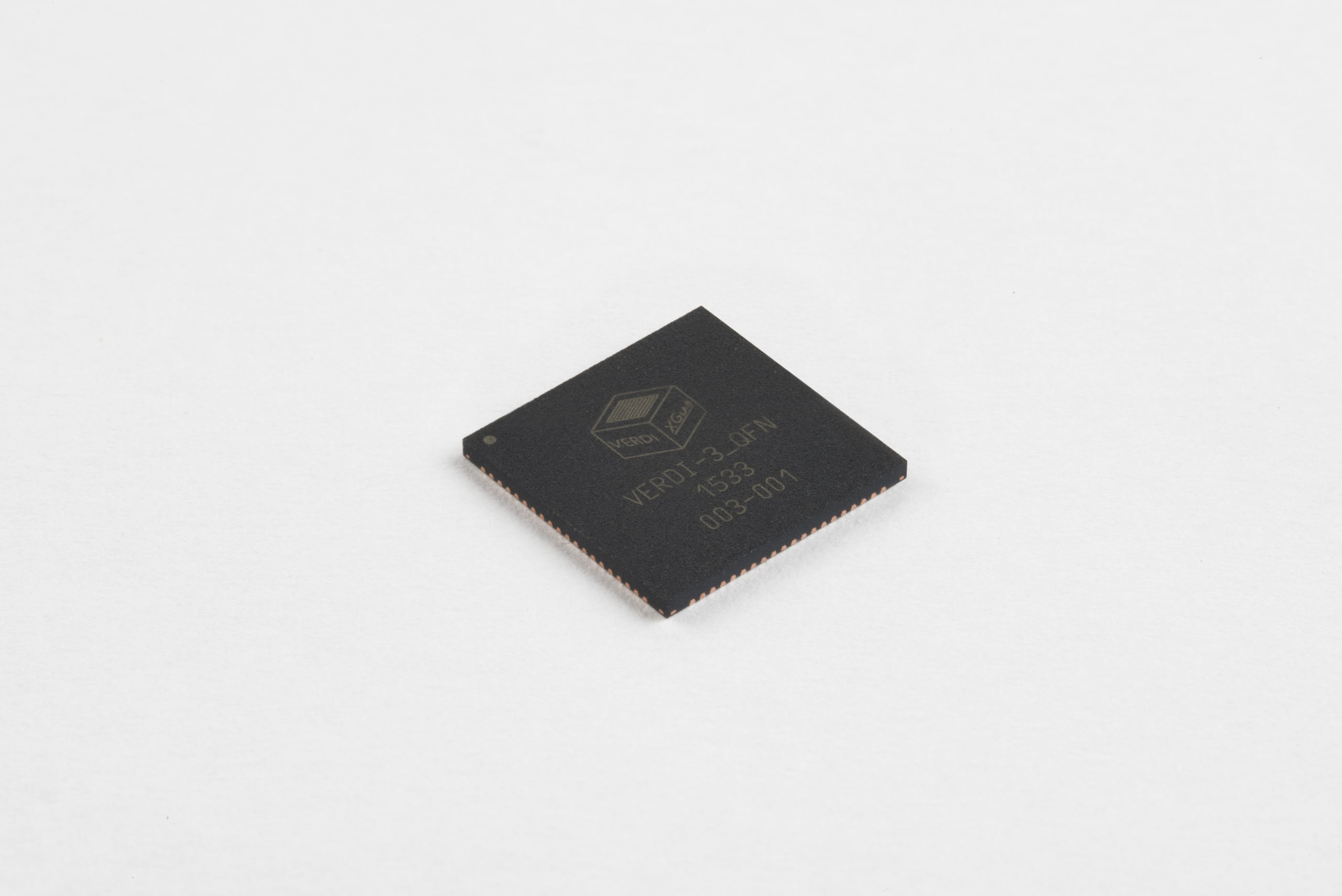 VERDI is a multi-channel ASIC capable of reading out different type of radiation detectors (SDD, PMT, Si (Li) etc.) with both positive and negative signal polarities. The circuit includes 8 channels, each one composed by a Charge Sensitive Amplifier (CSA), a Shaping Amplifier, a Baseline Holder, a Peak Stretcher, and an output buffer.
Main Features
Availability: bare die, QFP120, QFN80
Physical size: 3.5 mm x 3.5 mm x ?? mm (bare die), 28 mm x 28 mm x 4 mm (QFP120), 12 mm x 12 mm x  0.8mm (QFN80)
Reset: pulsed or continuous (with external zero-network)
Mode: Normal, Low-Power (multiplexed output) or shut down
Power consumption: 170 mW in low-power mode and 3mW in shut down mode
Applications
Front-end JFET readout for radiation detector application
Multi-element X and Gamma-ray detectors readout
Nitrogen-cooled Ge and Si(Li) detectors, Silicon drift detectors (SDDs), Scintillation Detectors, Photomultipliers Tubes, etc.
VERDI Schematic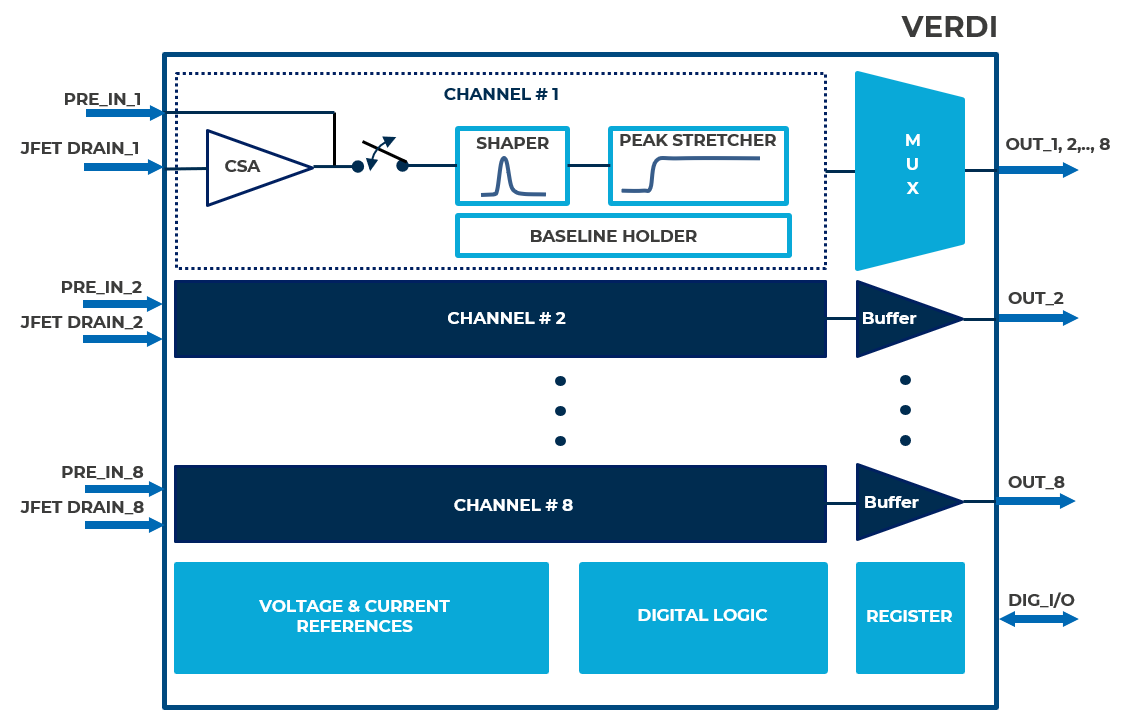 VERDI where to use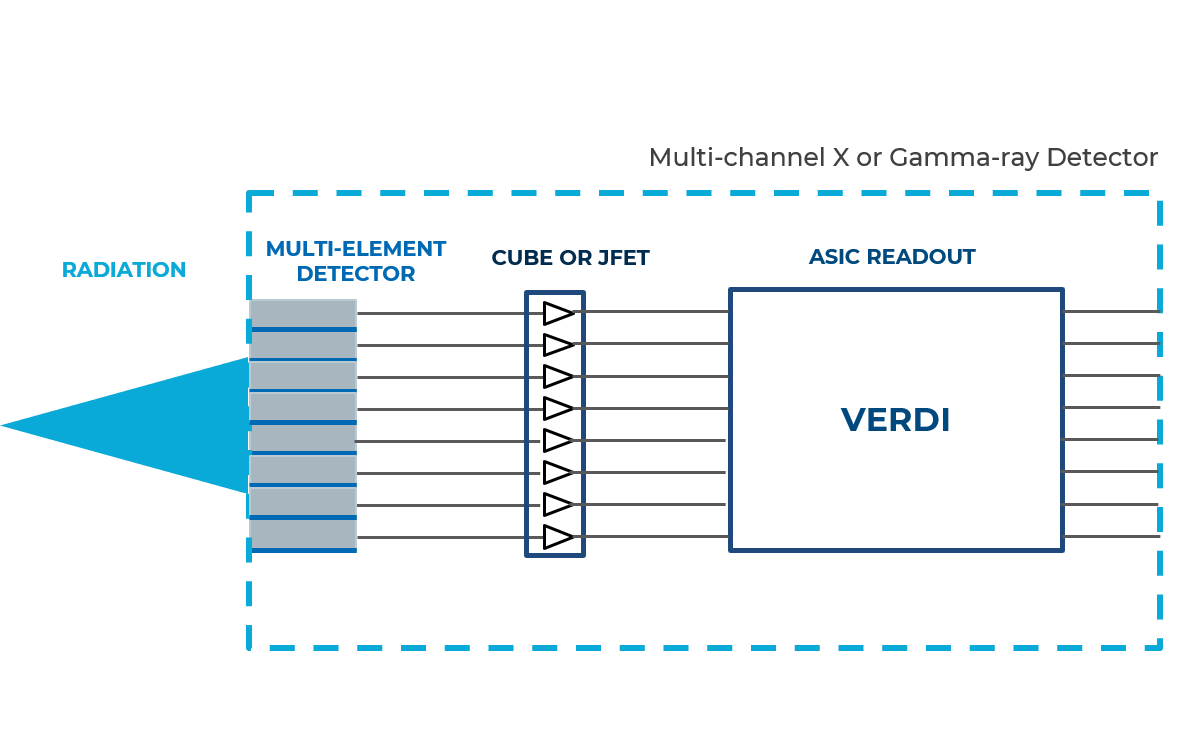 VERDI Technical Data
| Parameter | Conditions | Value |
| --- | --- | --- |
| Positive Supply Voltage, VDD | Supply Voltage | +1.7 V |
| Nevative Supply Voltage, VSS | Supply voltage | -1.7 V |
| Current | Low-power mode | 52 mA |
| CSA compatibility | polarity | e-/h+ collection |
| CSA compatibility | JFET gm | 2-45mS |
| CSA compatibility | JFET Cgs | 0.45 - 25pF |
| CSA Compatibility | Cfeedback | 0.050pF - 10pF |
| CSA compatibility | Cdetector | 0.2pF-39pF |
| CSA gain scale | Configurable by SPI | 20mV - 300mV |
| Threshold voltage for reset, THR_PRE | Internally selectable or by external partition | from -1.5V to +1.5V |
| SHAPING TIME | Configurable by SPI | 0.25us, 0.5us, 0.75us, 1.0us, 2.0us, 4.0us, 6.0us, 8.0us |
| Baseline Holder, BLH | Configurable by SPI | Not active, High side, Low side, Low and High side |
| Buffer Output | Configurable by SPI | RC waveform, Semi-Gaussian shaper, Peak stretcher waveform, GND |
News & Events